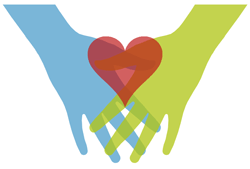 relationship      noun
: the way two or more people, groups, countries, etc., talk to, behave toward, and deal with each other
Relationships are so important to God, they were the first item of business He addressed right after He finished creating everything.
As the creation account unfolds in Genesis 1, the phrase "And God saw that it was good" appears six times. Verse 31 says that "God saw all that he had made, and it was very good" (italics added). Then comes the first time God declares something not good, which is in Genesis 2:18. 18 The Lord God said, "It is not good for the man to be alone. I will make a helper suitable for him."
God didn't create us to live alone. We need each another. The special places in our lives usually have very little to do with the location, but mostly with the folks around us. So, it's fitting that among our core values is the building and growing of relationships. Here's what Paul had to say about them:
3 Do nothing out of selfish ambition or vain conceit. Rather, in humility value others above yourselves, 4 not looking to your own interests but each of you to the interests of the others. 5 In your relationships with one another, have the same mindset as Christ Jesus: 6 Who, being in very nature[a] God, did not consider equality with God something to be used to his own advantage; 7 rather, he made himself nothing by taking the very nature[b] of a servant, being made in human likeness. 8 And being found in appearance as a man,  he humbled himself by becoming obedient to death—  even death on a cross! 9 Therefore God exalted him to the highest place and gave him the name that is above every name, 10 that at the name of Jesus every knee should bow in heaven and on earth and under the earth, 11 and every tongue acknowledge that Jesus Christ is Lord, to the glory of God the Father.          Philippians 2:3-11
In other words,   i t ' s   n o t   a l l   a b o u t   u s   a l l   t h e   t i m e .   To be the men and women Christ calls us to be, we have to put others first, AND do so without being mad about it. We can 1) 'Demand Our Own Way' and we can 'Be Right All the Time' OR 2) have meaningful contact and fellowship with others. We can't have both! Today, in His power (not mine), I think I'll go with what's behind Door Number Two.
By His grace alone, may God use us to build each other up, and make us reflective surfaces for the example of Christ in all times, places, and situations this week.
In His grip,
Chris Reed